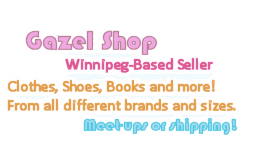 My own shop! (: Checked frequently, but too big to put in a sales post. Mostly plus sizes (with the occasional odd sizes). From size Large to XXL! Many brands including American Eagle, Abercrombie, Hollister and more... from exclusive plus size dresses from Asia too! Plus shoes and bags. Will be updated frequently. MANY, MANY size 16-18 pants!

Click here for more!

Prices are negotiable, shipping rates not included.
Will offer discounts on big batches.